CONTACT US
RVP Clinics
Please contact your clinic directly for scheduling and billing assistance.
Providers:
Christina L. Martin, MD
Lawrence C. Stumpff, MD
Sarah M. Christensen, MD
Martin K. Young, MD
---
Provider:
Stephen Nelson, MD
---
Providers:
Caryn Belafsky, MD
Tom Margulies, MD
Ashley Peterson, MD
Eric Ring, MD
Jill D Celestskye, MSN, APRN, BC-FNP
Dea Collins, MSN, FNP
Denise Ledbetter, PA-C
Julie Newmann, PA-C
Rex Strickler, PA-C
---
Providers:
Kristine Groskopp, DO
Anne Ryland, PA
Mary Barnum, FNP-C
---
Providers:
William Husum, MD
Fernando Cendejas, MD
Dennis Linden, MD, FRCPC, CCD
Albert Newton III, MD
Philipp Olshausen, MD, PhD
Christopher M. Murphy, MD
Ryan Hungerford, MD
---
Providers:
John P. Shonerd, DO
Cindy A. Konecne, DO
Sita Taibi, PA-C
Deborah Boles, FNP
Christine Stanek, FNP
Rogue Valley Physicians, PC services and offices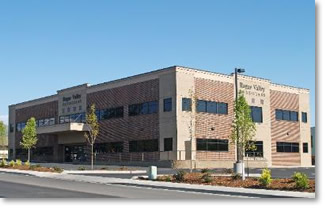 RVP SERVICES
DIRECTIONS TO RVP LABORATORY AND IMAGING SERVICES
Take I-5 to the South Medford, exit # 27.
At top of off ramp turn onto Highland Dr.
If coming from Grants Pass turn left onto Highland
If coming from Ashland turn right onto Highland
Take the first RIGHT onto E. Barnett Rd.
Pass Rogue Regional Medical Center.
Turn LEFT (north) on Murphy Rd..
Turn RIGHT onto Doctors Park Dr.
Google Map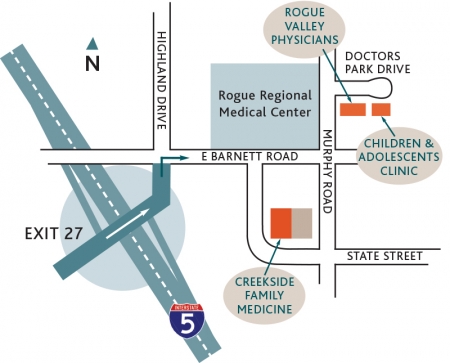 ---
| | |
| --- | --- |
| Bill Sloan, CFO | Phone (541) 842-9649 |
All RVP Providers are independent owner-operated medical practices.